Most Popular Kitchen Layout and Floor Plan Ideas
As the modern home's social epicenter, a kitchen has been playing host to all meaningful events from family breakfasts to lavish dining parties. A kitchen floor plan having the most appropriate layout and functionality are infinitely preferable to the others. Below helpful guidance and design ideas are recommended in order to plan the most ideal space for your kitchen and your lifestyle.
Which layout works best for you?
Typically the layout of your kitchen will be determined by room design. For most kitchens, there are five common layouts – the G, L, U, single wall, and galley. Such tried and true kitchen layouts still appeal to the lifestyles of today and create the kitchen work triangle focusing on three kitchen items – the sink, the fridge, and the stove.
THE L-SHAPED KITCHEN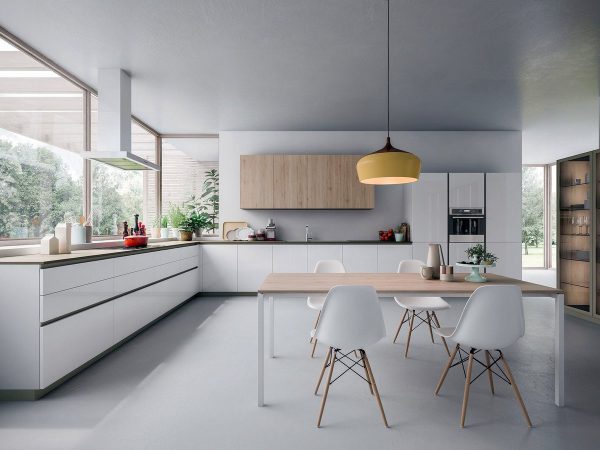 This kitchen layout is seen as a practical option for small and large kitchens, involving a natural work triangle created from continuous counter space and workstations on two adjacent walls. This provides intrinsic privacy for food prep and usually opens up to a nearby space, making it more convenient to interact with family members or guests. The L layout is perfect for young families and an excellent choice for entertaining.
THE U-SHAPED KITCHEN
The U-shaped kitchen is a perfect layout for larger kitchens. By being composed of cabinetry and fixtures along three adjacent walls, this layout provides continuous worktop space and loads of storage. The U-shaped kitchen allows for great workflow and multiple users at the same time.
THE G-SHAPED KITCHEN
The G-type (also known as the peninsula) kitchen is similar to the U-shaped kitchen. By surrounding the cook on all 3 sides, the kitchen becomes more welcoming, provides extra workspace, and increases storage options around. The G-shaped kitchen works best in medium to large spaces. The downside limits access to the main kitchen area, leading to IN & OUT complications.
THE SINGLE-WALL (OR STRAIGHT KITCHEN)
A kitchen keeps all the cabinets, appliances, and counter spaces lined up against one linear wall to conserve floor space and reduce construction costs. This basic style is commonly used in smaller homes, apartments, and lofts, and spatially effective without giving up on functionality.
THE GALLEY KITCHEN (OR CORRIDOR KITCHEN)
With more length than width, the galley kitchen consists of two rows of cabinets facing each other, forming an inner passage or galley in between. Corridor kitchens are economical on space, but if not properly designed, can be terribly inefficient. Galleys are great in tight spaces and mostly utilized by many restaurants.
Designing Tips for Kitchen Floorplans
Thoughtful design components are imperative in your timber frame kitchen since they help maximize the utilization of space, kitchens functionality, and livability. Exploring kitchen design and appliance stores can assist you restricted down what matches your personality and lifestyle. Here are what to consider when planning your kitchen layout.
Visualize your Kitchen in 3D. Utilizing easy-to-use online kitchen planner to plan your layout could save yourself from expensive mistakes and unfixable flaws. Analyzing how each nook and cranny is going to be optimized could not be ignored while you are projecting. Always make sure to consider where the garbage receptacle will go, which is a part of kitchen design that seems to be overlooked.

Reduce Traffic

. Make sure 2 people have enough space to work without bumping into each other, with at least 5 feet between the stove. Once in the kitchen, ensure that the primary route is hazard-free and will not be obstructed when opening the refrigerator or oven door.

Make the Distance between Main Fixtures Comfortable.

Keep the sink, the fridge, and the stove close to avoid complicating whichever task you are working on. A distance of at least 120 cm will let you open drawers and doors on both sides. Leave space for a filler piece between the last cabinet and the wall, this will give you enough room to fully open the door which is especially important if you have pull-out wire baskets.

Make Sure the Kitchen Island Isn't too Close or too Far

. A kitchen island is a built-in desk served as a place to prepare meals. Remember that your kitchen island won't obstruct the area in front of your main appliances and place it within a comfortable arm's reach.

Maximize your counter space

: A small prep sink should be included so the countertop surface would not be broken up by any cooktop or other appliances. This will optimize the space available to prepare the food. At the same time, wall cabinets are positioned at a height that does not block the view of the countertops. Counter space beside the oven will give you somewhere to put hot trays.
Avoid These Common Kitchen Floorplan Mistakes
Style and Design Consideration
Not place the sink first. 

Place a sink next to the wall will disrupt your workflow and reduce your countertop space

Put the oven or dishwasher in a corner will block the adjacent drawers and cabinets

Place the oven next to the wall will expose the wall to heat and fat splashes

Place drawers in a corner will block the adjoining cabinet and may damage its door or handle.

Buying appliances last or buying the wrong handles, and not thinking about elbow room.
Neglecting Workflows
Waste worktop space or miscalculating worktop height

Undercount power plugs, neglect plumbing, overlooking ventilation, or forget about heating

Ignore rubbish and recycling.
Communication pitfalls
Not ask experts for help or communicate poorly with builders. 

Forget to draw up clear plans and create a written agreement that clearly states pricing, schedules, and commitments.
Get Started on Your Kitchen Design
If you're remodeling your kitchen and you're considering kitchen floorplans, read through our guide on tips and design advice and contact Kitchen & More for a free consultation.